Disclosure of Material Connection: I received the products or services mentioned in this review for free in the hope that I would mention it on my blog. Regardless, I only recommend products or services I use personally and believe will be good for my readers. I am disclosing this in accordance with the Federal Trade Commission's 16 CFR, Part 255: "Guides Concerning the Use of Endorsements and Testimonials in Advertising."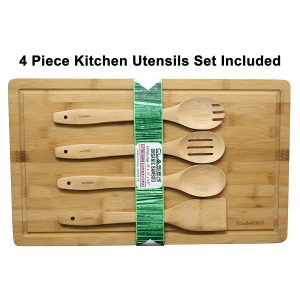 CLASIER 18×12 Organic Bamboo Cutting Board
The CLASIER 18×12 Organic Bamboo Cutting Board makes the perfect addition to your kitchen. This cutting board comes complete with a 4 piece wooden utensil set as well, making this a wonderful gift for newlyweds, housewarmings, or anyone who enjoys cooking. I recently purchased this bamboo cutting board set from Amazon (Purchase Link) and was very impressed to say the least.
Upon receiving the set, the first thing I did was to make sure it was flat and not bowed. I can't even count how many times I have purchased a cutting board only to get it and have it rocking like a see-saw on my countertop. This board was not a bargain bin board, so I had high hopes from the moment I decided to place my order. Sure enough, those high hopes were met.  🙂
A really nice bonus was that this set included 4 wooden utensils as well… A slotted wooden spoon, a solid wooden spoon, a spork-like wooden spoon, and a wooden spatula. All of which were made from bamboo as well. These will come in handy when making pasta, sauces, eggs, stir-fry, etc.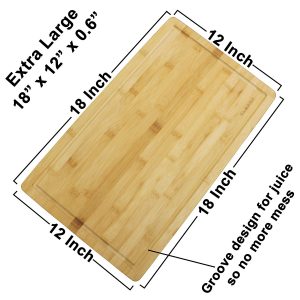 The dimensions of this cutting board are perfect for me. It measures 18×12 inches and is about a half inch thick. It has a juice groove to keep liquids from flowing off the edge. This is especially useful when carving cooked meats. This board is the perfect size for cutting fruits, vegetables, meats, breads, etc.
Now, I had several reasons for choosing a bamboo cutting board over other types. Firstly, bamboo is the fastest growing wood material on the planet which means that it's super sustainable. It makes a very durable and great looking cutting board.
Another reason I chose a bamboo cutting board is because a bamboo cutting board won't dull your knife as much as other boards do. It also has an antimicrobial factor due to the fact that bacteria doesn't get into the board as much as other types of cutting boards. Even the hardest of maple boards will be scarred by a chef's knife, which will leave pockets for moisture, food particles and bacteria to accumulate. Bamboo, on the other hand, is often dense enough to resist knife scarring and naturally resists water penetration and letting bacteria find a place to form.
Lastly, bamboo cutting boards are nearly maintenance free due to the hard density of the wood. Bamboo resists retaining water and as a result, will not warp or crack as easily as normal wood. That said, it's not recommended to put a bamboo board (let alone any cutting board) in a dishwasher due to the extreme heat.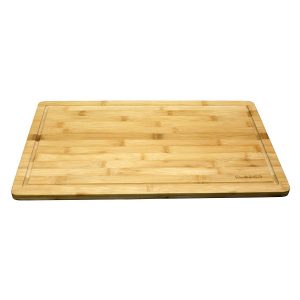 Before using a bamboo cutting board for the first time, you should season it by heating a small amount of mineral oil in the microwave and applying it to your cutting board's surface with a cloth. You then want to allow it to dry overnight. You should do this about once per month to help maintain the boards overall health. If you properly take care of a bamboo cutting board, it will last a long time.
Please check out my review video below. I hope you enjoyed this review. If you would like to check this item out on Amazon, you can do so by clicking the link below.