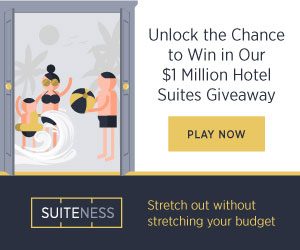 Suiteness members can unlock up to 3 plays a day for chances to win from over 10 thousand instant prizes – from $50 to $5,000 in booking credits
Door One – Unlock your first door simply by signing up to receive email updates from us.
Door Two – Unlock door 2 to double your chances of winning! Invite your friends to play Suiteness September. When at least 3 of them sign up, give door 2 a little push to see what's behind it.
Door three – Oh yes we did!l We're giving you one extra daily chance to win more booking credits. Unlock door 3 by sharing your unique referral link on social and have at least 3 referrals sign up to play Suiteness September.