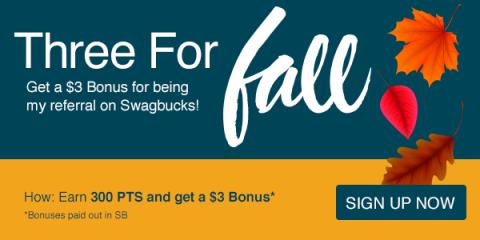 If you haven't tried Swagbucks before, you can get a bonus $3 for signing up during October as part of their Three for Fall promotion. Swagbucks is a rewards site where you earn points (called SB) for things you're probably doing online already, like searching, watching videos, discovering deals, and taking surveys. Then you take those points and exchange them for gift cards to places like Amazon, Starbucks, Walmart, Target, or PayPal cash.
When you sign up through me this month, you can earn a $3 bonus! Here's how:
2. Earn 300 SB total before 11/1/17. You'll get a $3 (300 SB) bonus for it!
3. If you want even more bonuses, you'll get a $10 (1000 SB rebate) bonus for making your first shop purchase! That's in addition to the SB you earn for every dollar you spend.
That's it. It's super easy, and Swagbucks is for real. I use it myself, and I've earned over $1145 as of this posting. My favorite way to cash out is for Amazon gift cards because they're so versatile. I also like to cash out for Walmart gift cards and for restaurants like Outback and Burger King too. There are many choices, including Paypal.