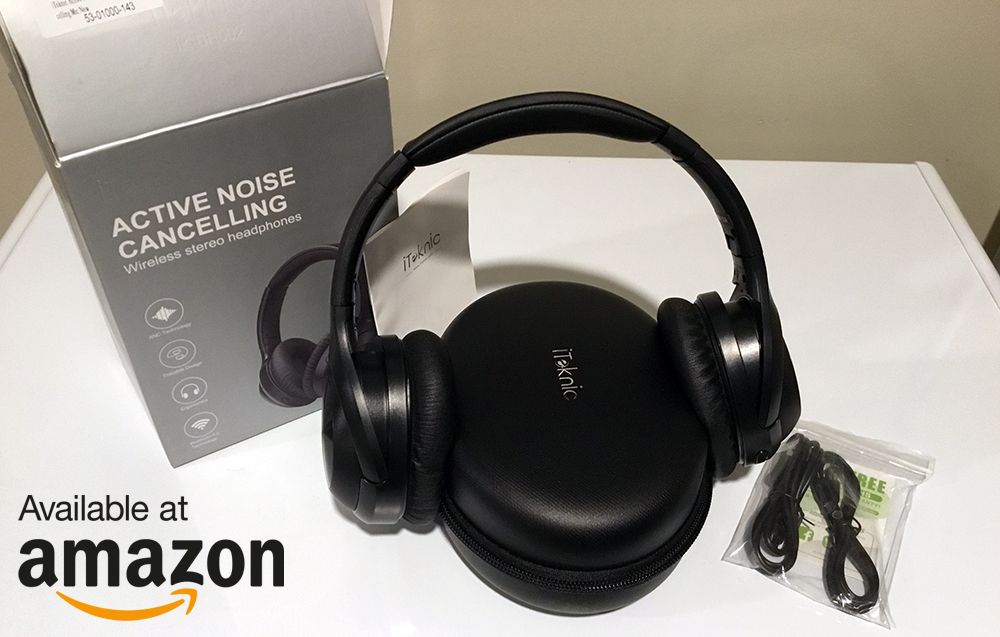 Top quality Active Noise Cancelling Headphones
We tested these active noise-cancelling headphones from iTeknic for over a week now. The over the ear styling is very comfortable. The earpads cover the entire ear and feature very soft cushioning. The headphones connect via Bluetooth and charge via a standard USB cable. They are lightweight, yet feel to be made very sturdy. I would not be worried if I dropped these. They are solid!
The package included the headphones, along with a 1/8 audio cable and a USB charging cable. There was also an instruction manual as well. These were partially charged right out of the box which was nice. We were able to get right into testing them. 🙂
Some scenarios we tested them in to try the noise-cancelling feature was in our TV room as well as in our computer room which had two fans and an air purifier which is quite loud. Wearing the headphones with the noise-cancelling off muffled the sound a lot on it's own. But when you flip the noise cancelling switch, it was like you turned off the world. We couldn't even tell that there was a single fan going in the computer room. Having never tried noise-cancelling headphones before, we were amazed at the silence.
As for the audio quality as headphones, the audio was crisp and clear. Stunning bass and really nice highs. No complaints in the listening dept at all. The best part is that they are Bluetooth, so you have freedom to move around and not be attached to an audio source. Another great feature is that even if they lose their charge, you can still listen to audio using the included audio cable. So you are never really stranded with these. We experienced about 15 to 20 hours of use on a full charge which is more than enough between charges. We'll be using these on flights to get some peaceful rest while traveling. They are also fully foldable which allows you to carry them in the included zippered rigid case with ease. They pack very nicely.
All in all, these are really nice headphones. We definitely recommend checking them out if you are looking for an affordable choice in BT Active Noise-Cancelling Headphones. They are available on Amazon at the link below. Thanks for visiting. We hope you found this review to be helpful. 🙂
Buy: http://bit.ly/BT-Headphones