Disclosure of Material Connection: I received the products or services mentioned in this review for free in the hope that I would mention it on my blog. Regardless, I only recommend products or services I use personally and believe will be good for my readers. I am disclosing this in accordance with the Federal Trade Commission's 16 CFR, Part 255: "Guides Concerning the Use of Endorsements and Testimonials in Advertising."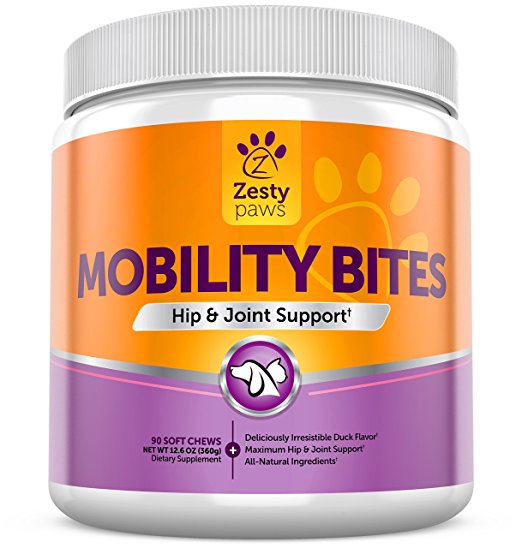 Zesty Paws Mobility Bites Hip & Joint Support Chews with Glucosamine, Chondroitin & MSM for Dogs & Cats, 90 count
Purchase Link: http://zestypaws.com/collections/our-collection/products/mobility-bites
My dog Minna recently turned 10 years old. It's been getting harder for her to run and play for long periods of time like she used to. Jumping up onto the sofa now comes with a grunt or an oomph, and I want to know that I'm doing the best that I can for her. After reading many online reviews, I decided to give Zesty Paws Mobility Bites a try. I liked the fact that they were a chew and not a pill. Minna is not a fan of pills, and she really seems to enjoy these as you'll see in my video below.  🙂
What stood out to me when deciding to purchase this particular brand was that it was manufactured in FDA-registered facilities that are NSF and GMP-certified in the USA. With so many negative stories about China-made edibles for pets, I try to buy only US made products for her now.
As the packaging states, it's formulated with all-natural great ingredients which I definitely approve of. They also feature natural restorative ingredients including glucosamine, yucca extract and methylsulfonylmethane (MSM) to give your pet's hips and joints the care they need. I take glucosamine myself, and I know I've eaten yucca before. I appreciate that these are ingredients I can recognize and identify with.
The ingredients in this special formula also promote heart health as well as immune support to make sure your pet feels better than ever before. In addition to all of those health benefits, I'm assuming that they taste great as well, because Minna absolutely loves them.  🙂
If you have an aging dog or cat and have been looking for a supplement to help ease the tension of their weakening joints and muscles, then I highly recommend checking out Zesty Paws Mobility Bites, Hip & Joint Support Chews.
Purchase Link: http://zestypaws.com/collections/our-collection/products/mobility-bites